BOOK SIGNINGS, TALKS, AND APPEARANCES
"Dr. Saltzman's presentations at the Educational Secretaries' Conference and the School Lunch Conference were often quoted as 'the best part of the conference.' Dr. Saltzman strikes a beautiful balance between humor and the challenges of life. Her message is both candid and joyful: a difficult task to master, but one done with great success."

— Betsey Dollard, Assistant Director, Capital Area School Development Association, Albany, New York

"Define yourself by the people you love and who love you. As you do and life goes on, don't expect it to be fair. And, remember—roll with the punches—make the best of it. That was Nancy Saltzman's message of 'How to survive your life' when she spoke in Pueblo, Colorado, at the Women's Celebration for Parkview Medical Center."

— Karen Vigil, The Pueblo Chieftain

"When I think about Nancy, I think about courage, astounding courage, courage in the most extraordinary way. It almost doesn't give credit to what I'm trying to say when I use that word for her. She has made a conscious decision to lead the rest of her life."

— Jan Isaacs Henry, Director of KIDPOWER Colorado Springs

"Nancy is a truly gifted speaker! She has a fun and direct approach when talking to adolescent girls. I truly appreciate her openness!"

— Sharon Smit, Middle School Counselor
Nancy is based in Colorado Springs, CO, and available worldwide.
For availability and rates, please e-mail her at nancysaltzman@yahoo.com
or call her at 719-491-9675.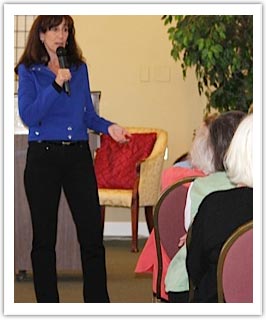 Clients:
Businesses
Monroe Bank, Bloomington, Indiana
Bank of Broadmoor, Colorado Springs, Colorado
The Eastern Colorado Bank, Limon, Colorado
Roselawn Cemetery and Funeral Home, Pueblo, Colorado "Christmas Box Angel Service"
Women's Groups
Southern Colorado Women's Chamber of Commerce
Colorado Springs Women's Network for the Colorado Springs Utilities Department
Delta Kappa Gamma Sorority, Pueblo, CO
Parkview Medical Center's Women's Celebration, Pueblo, Colorado
Executive Women International Community Groups
Methodist Church Group, Woodland Park, Colorado
Temple Shalom
Race for the Cure Survivors' Luncheon
Race for the Cure Teams' Luncheon
Moms in Motion
Medical/Health and Human Services
National Conference for Oncology Administrators, San Antonio, Texas
St. Mary's Hospital, Evansville, Indiana
El Paso County Department of Human Services
Educators/Students
National Association of Elementary School Principals National Conference: "Effective Leadership" and "Good Grief: Learning Through Loss"
Colorado Association of School Executives (statewide conferences): "Effective Leadership"
Dysart School District Administrators, Phoenix, Arizona
Eagleview Middle School, Colorado Springs
Timberview Middle School, Colorado Springs
Military Child Education Coalition National Conference
Sodexo Employees Colorado statewide conference
College Students
President's Leadership Class at the University of Colorado, Boulder, Colorado
University of Denver Law School, Externship Students
Adolescents
"Adolescence is a Required Course" Keynote Speaker for the Young Women's Conference sponsored by the Girl Scouts
Colorado Springs Chapters of the National Charity League
Carmel Middle School Community Leadership Conference, Colorado Springs
Pine Creek High School Career Day, Academy School District, Colorado Springs